JU YOUNG RYU
ME, MYSELF, AND I

October 11 - 29, 2022


미술사의 전통에서 자화상은 그 시대 화가의 기억과 성찰의 흔적으로 간주되었다.폴 리쾨르는 램브란트의 자화상에 대해, 렘브란트가 자신의 얼굴을 그리는 작업은 스스로를 반성하는 회화적 성찰, 즉 사유의 대상을 회화적 대상으로 구현하여 고정시키는 과정을 통한 성찰이었을 것이라 언급한 바 있으며, 현재에 이르기까지 수많은 화가들이 여러 점의 자화상으로 자신의 모습을 남겼다. 화가의 자화상에는 그의 삶과 인간적 면모가 투영되어, 자화상을 제작연도에 따라 나열하면 화가가 살아온 생의 여정을 읽을 수 있다. 류주영 역시 자아를 인식하고 확인해 가는 삶의 과정에서 초상 작업을 이어왔다.

"나는 순간의 감정과 생각들을 관찰하고 캔버스에 이미지로서 기록한다.
내 작업은 본연의 나를 마주하고 받아들이는 과정이며, 캔버스 안의 인물들은 불완전한 나의 모습을 반영한다."

사실적 자화상과 내면적 자화상이 혼합된 류주영의 작업들은 자기직면과 내면응시, 자기표현을 통한 감정의 수용과 정화과정의 결과이다. 주로 인물이 내러티브안에 존재했던 전작들과 비교해 신작에서는 외현적 묘사보다 색채와 터치에 의한 주관적 자화상으로 향하는 변화를 보인다.

이번 전시의 메인작품 타이틀 '목하사이'의 '목하'는 바로 지금을 뜻한다. 작가는 명상을 하면서 때때로 그가 순간의 사이 사이에 존재하는 듯한 느낌을 받았다고 부연하였다. 또 다른 5점의 원형 캔버스로 구성된 'The Moment 1-5' 연작에서는 온화한 색감의 팔레트를 사용해 감정의 물살 속에서 스스로에 집중하는 순간을 담았다. 이렇게 기록된 작가의 개인적 순간들은 내면의 형상화를 통해 스스로를 직시하려는 그리고 스스로를 보살피려는 작가의 의지를 동시에 담고 있다.

자신의 얼굴은 언제나 반영을 통해서 지각된다. 현재의 수많은 디지털 셀피에는 자신을 외부화시켜 보여주고 싶은 이미지가 담겨 공유된다. 매 순간 남들에게 내보일 자신을 선택해 드러내는 사회적 현상 속에 '나'를 이해하기 위한 사유는 어디에 있을까? 작가는 이 전시를 통해 관객에게 당신은 어떤 감정의 지점에 있고 어떤 표정을 하고 있는지에 대한 질문을 던진다.


In the tradition of art, self portrait has been considered as the trace of the artist's self-reflective thoughts and memories which allow us to follow his journey. Through the present day, many artists have produced their self portraits. Ryu also has been depicting herself in the process of navigating her life. She has stated that she initially started paintings as a therapeutic practice, and that continued to be the foundation for her work.

"The process of painting is the way I face and embrace my true self.
I gaze at my inner feelings and feature subjects that represent my incomplete self."

In this presentation, Ryu introduces her meditative self portraits. When comparing the features shown in the previous works, her recent practice is changing to not as an external description with her character in a narrative but as an expression of interiority. Emotional purification through self-expression is more engaged throughout her recent work.The artist encapsulates her emotional states and embarks on a meditation while she paints.

In the central work in this exhibition <목하사이>, a woman is standing still in repose. The title means "between moments'. The artist added the explanation that she sometimes gets a sense of existing between the moments while meditating. , five round canvas paintings all bear the same title, albeit with different numbers. Like most of the others on view in this exhibition, this series of works are self-referential and they hint at swirling emotions in a soft, subdued color palette. Ryu shows a consistent cast of characters-her many selves- in a loose cluster. She projects this emotional content onto the viewer with very subtle facial features across the paintings presented.

We only aware of our face by mirroring. We constantly prove our existence to others by self-imaging ourself. We choose which version of self to show others, as social media is now a part of our lives. Through the exhibition, Ryu asks questions. Are you seeing your true self? Do you find answers pertaining to yourself?

RYU JU YOUNG
(clockwise) The Moment 3, 5, 1, 2
2022
Acrylic on canvas-covered wood panel
Diameter 90cm
RYU JU YOUNG
Island Girl
2022
Acrylic on canvas
72 x 72 cm

RYU JU YOUNG
The Moment 4
2022
Acrylic on canvas-covered wood panel
Diameter 90cm

RYU JU YOUNG
목하사이
2022
Acrylic on canvas
192 x 112 cm

RYU JU YOUNG
Walk 2
2022
Acrylic on canvas
35 x 45 cm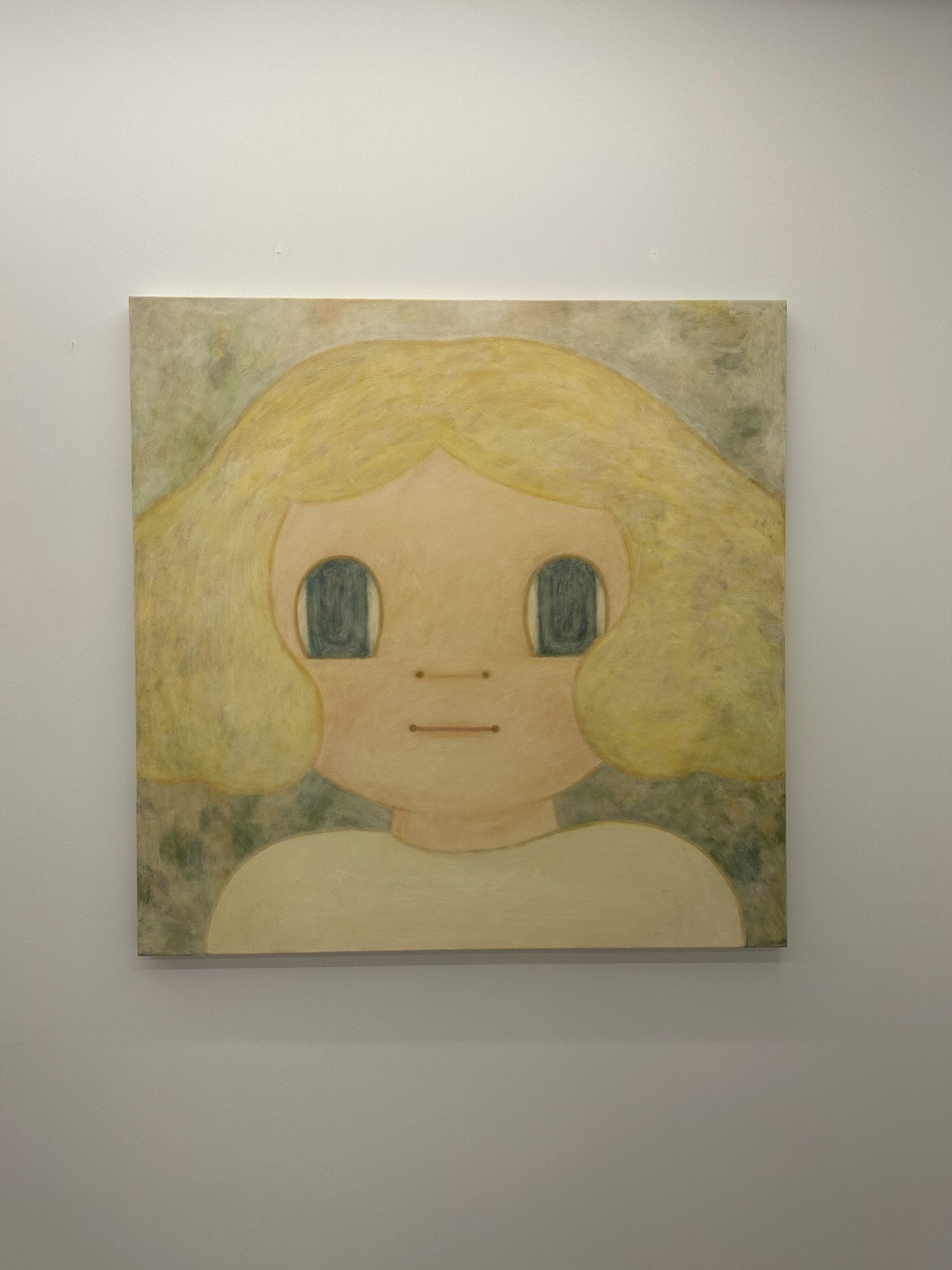 RYU JU YOUNG
The Beginning of Smile
2022
Acrylic on canvas
97 x 97 cm
RYU JU YOUNG
Walk 1
2022
Acrylic on canvas
65 x 45 cm
RYU JU YOUNG
The Name of Grass
2022
Acrylic on canvas
90 x 90 cm