HERA HAESOO KIM 김혜수

Hera Kim: My current undertaking, entitled Prerecorded Today, 2018-Present

I have long been fascinated by the visualization of stream of consciousness. It started my freshman year of college when I experienced temporary heart failure. I took electroencephalogram (EEG) tests and witnessed the movements of my brain waves reacting to a spectrum of senses and emotions. This was my first visual encounter with the realm between the conscious and the subconscious. I was immediately shaken by that encounter, and my fascination with that relationship has never left me since. My attraction to the world of the subconscious developed into an interest in representing it physically, searching for tangible materials that visually trace the gap, or void, between the body and the mind— between visibility and invisibility. I define this void as the space where thoughts float in and out, without being dominated by consciousness or subconsciousness.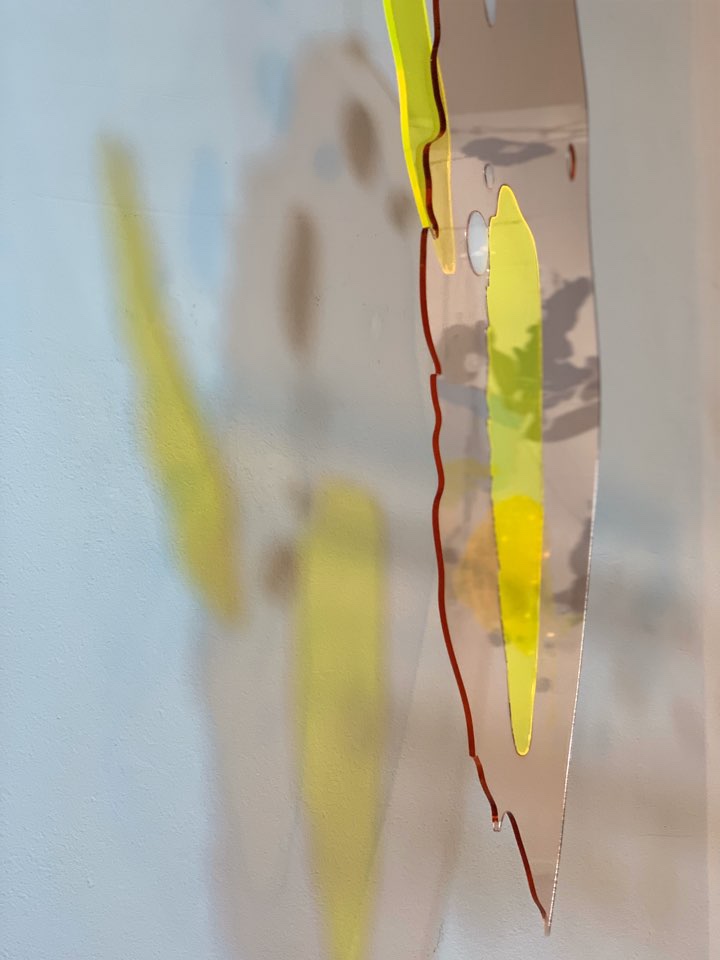 Our momentary experiences do not simply fade away and disappear; rather, they are covered by fresh layers of new experiences and stimuli. My work is a disruption and reorganization of that time-based process. It unravels the natural process of new experiences replacing older ones, as though they are stacked onto each other vertically, and attempts to reorganize them horizontally as if each moment were a pearl on an endless string. My art practice involves the obsessive collection of sensory data through my everyday encounters. Using visual and written records of my daily experiences and stimuli my work brings my past moments into the present. Collectively, they become a mind map—allowing me to freely go in and out of these rabbit holes whenever I wish to revisit the ephemeral moments of my past. My work, therefore, attempts to transform the intangible and transitory realm of impulses and stimuli into a tangible and lasting form.

To fully express the nuance and complexity of this concept, my project involves three interdisciplinary stages:

I completed 63 drawings of my sensory experiences, each with accompanying text. The image and text inform each other to provide a fuller understanding of each moment.
Each of these drawings was translated into a plexiglass sculpture, and the group is installed in a system of interacting parts. This stage is the first part of the project that is available for the audience to access. In addition to the installation, an interactive website (mpt.haesooart.com)—compiled from my diary entries—will also be available. The site will serve as an archive, that provides a visual guide for audience members who wish to view each plexiglass sculpture's texts while engaging with the installation.
Finally, I translated the installation into virtual reality using 3D rendering, which allows me to guide the audience through the installation while simultaneously offering an auditory environment, as different voices read each of the original texts. The employment of unique voices enforces the individuality of each experience, encouraging the audience to have different and distinct interactions with each form. My final intention is to create a repository of my sensory experiences that can be accessed at any time, in any space, and by anyone. Each piece is floating in an unlimited virtual reality.

Through this process, I intend to remind myself, and my audience, how we are all products of our pasts. I believe our lives are an unbroken series of successive moments, and

this has a sublime beauty. By sharing the second and third stage of the 63 interpretations of my sensory experiences simultaneously, I encourage the audience to look at events not linearly, but according to sensory and emotional connections through time. Thus, in a way, my work is an illustration of the past, but also a mirroring of the present: Pre-recorded Today.



MORE ABOUT THE ARTIST:
IG @studio.herakim
http://www.haesooart.com